Harrow Computer Club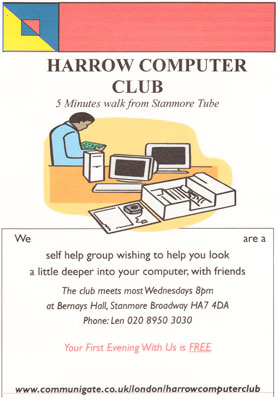 The Harrow Computer Club meets at 8:00pm in the Neville New room at Bernays Hall, on the first and third Wednesday in each month throughout the year, except August.
The objects of the club are to exchange information about computers and other related technologies at various levels from elementary to advanced.
From time to time there are visiting speakers on many subjects and when a specialised speaker is not available, then members of the Club will talk on some aspect of computing, or help with a problem another has come up against.
Meetings are generally open forum around a desktop image projected on to the wall. Both Microsoft and Linux platforms are discussed.
Your first visit to the Club will be free of charge but a membership fee is levied to cover the expenses of running the Club, hire of the hall etc.
If you are coming along for the first time, please check we will be holding a class on the intended day by calling us on one of the numbers below.
For more information contact the Chairman, David Etheridge on 020 8954 3517 or the Secretary, Morris Jones on 020 8954 4229.
See the Weekly List for more details.