Ashtanga Yoga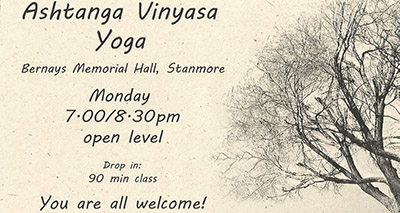 With the Ashtanga practice, flexibility can improve and strength can be developed, but the real focus is our breath: a bridge between the body and the mind, combined with each movements, it transforms the fixed sequence of asanas in a beautiful moving meditation.
The classes aim also to deepen awareness of our body, in its entirety and in all its parts, in dynamic and stillness. Respecting the present circumstances of our body/mind, the classes are open level where each time, everyone can find their level.
Monday 6.30 – 8.00pm open level £12 drop in.
Try your first class for £5!
5 classes carnet £55 (please note the carnet is valid for 6 weeks after purchase)
Pay cash or bank transfer (details available on request).
Please, bring your own mat!
About Laura:
Coming from the contemporary dance world, Laura got deeper into yoga around three years ago after moving to London. Deeply and truly fascinated from the power of this practice, in 2016 she did her 200hour training in Ashtanga and Yin Yoga with Melanie Cooper and Norman Blair. In her personal journey as well as in her teachings, she tries to find an overall balance through the strong, dynamic and the relaxing, slow practice.
For more info contact: lauracremalaura@gmail.com
See the Weekly List for more details.